The Graulore
An online chronicling of all things Grauwelt that anyone can edit.
Read the back stories on your favorite Grauwelt characters, creatures, locations, events, and technology.
Contribute your own ideas, speculations, discussion, and artwork to this growing world.
Warning
The fictional world of Grauwelt is quite violent and features suggestive imagery and adult situations. The information contained in this and other Grauwelt-related websites is not suitable for all audiences.
This site contains numerous spoilers. You have been warned!
Graulore Categories
Artifacts • Books • Characters • Creatures • Events • Institutions • Keeps • Locations  • Mindhalders • Orders • Taaken • Technology • Terms • Weapons
Quote of the Day
"Fear not what can be sensed by eye or ear or hand... Have a heart to fear only those things that cannot be detected by mortal senses."
Featured Article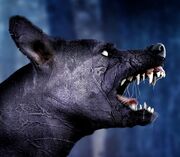 The Löwa were a canine-like species of creature native to the Grauwelt. They were a highly militaristic species that ruled a vast swath of land called the Hundish Realm.
The Löwa were created by the Great Hund, who used pieces of his own body to make them and use them against his mortal enemy Dietrich.
The Löwa are the chief antagonists in The Sword and Its Servant.
Graulinks
Official Grauwelt Website • Grauplay, the Free Tabletop Roleplaying Game •
Grauwelt YouTube • Grauwelt Facebook • Grauwelt Twitter298px